---
Zoning Administrator
For zoning questions, contact
Building Inspector,
Tory Geilhart
(989) 856 - 4867
---
Building
Inspector
Tory Geilhart
Hours: 8 am - noon
Mondays & Wednesday
(989) 856 - 4867
---
FOIA requests must be submitted in writing to the Lake Township Clerk. For information please call 1-989-856-4867
No e-mail requests
please.
Form
for
>> FOIA Request for Public Records <<
---
Thank you
Lake Township
1/1/2005
---
---
NOTICE
TOWNSHIP OFFICE WILL BE CLOSED FOR THANKSGIVING…

Thursday, November 22nd and Friday, November 23rd
The Township Office will be closed, allowing employees to celebrate the national practice of
Thanksgiving.
We will resume regular business hours on
Monday, November 26th, 2018
Happy Thanksgiving!
---
LAKE TOWNSHIP
NOTICE OF PUBLIC
HEARING
NOTICE is hereby given that the Lake Township Zoning Board of Appeals will hold a public hearing pursuant to the Lake Township Zoning Ordinance on Nov. 28, 2018 at 6:30 P.M. at the Lake Township Hall located at 4988 W. Kinde Road, Caseville, Michigan.
The purpose of the public hearing will be to consider the application of John and Denise DeBouvre for a variance to construct a garage in the front yard. This is in violation of Sec. 805.5 (f). Said property is located at 6670 Osbourne Dr., Caseville, and is identified as Parcel No: 3213-014-250-00.
All interested persons are encouraged to attend the public hearing to offer comments as to the application. Individuals needing special services to fully participate in the hearing may contact the Township Clerk at (989) 856-4867 at least 72 hours in advance to request the necessary assistance. Written comments may be submitted to the Clerk at P.O. Box 429, Caseville, MI. 48725 or emailed to info@laketownship.net, and should be received by noon (12:00 p.m.) on Nov. 28, 2018.
Claren Russell, Clerk
---
---
---
FYI

There are subjects and information that you may not be aware of on the link below.
---
>> Adopted Wind Ordinance <<
---
> Past Notices <
---
---
Mon. - Fri. 10 a.m. to 2 p.m.

For further information please call the

Township Hall 1-989-856-4867

or

E-mail us anytime at

Office Closings

Martin Luther Day 1/15/18

Presidents Day 2/19/18

Good Friday 03/30/18

Memorial Day 5/28/18

Independence Day 7/04/18

Labor Day 9/03/18

Columbus 10/08/18

Veterans Day 11/12/18

Thanksgiving Day 11/22/18

Day after Thanksgiving

Christmas Holiday's

New Year's Day 1/1/19
---
---
Drive Carefully and Stay Safe
---
---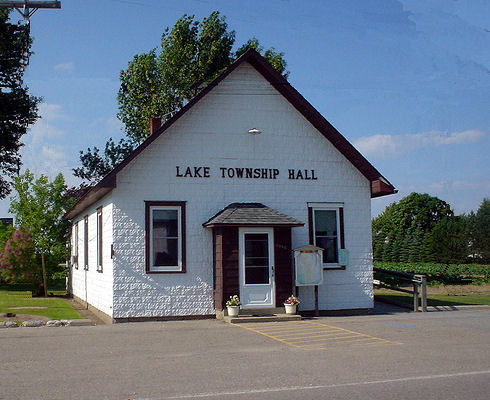 Welcome to Lake Township, a place where you will find a Recreational, Residential, Rural and Agricultural atmosphere. We are located in Michigan's Lower Peninsula 120 miles North of Detroit at the Tip of the Michigan Thumb. We boast 6 miles of sandy shoreline, facing Lake Huron in the Saginaw Bay. We have pristine wooded areas, State Parks, County Parks, Hiking Trails, Good Fishing, Water Sports, Scenic Turn out and summer rentals.
Caseville
---
Supervisor
Valerie McCallum
(989) 856 - 4867
---
Clerk
Dede Russell
(989) 856 - 4867
---
Treasurer
Nicole Collins
(989) 856 - 4867
Hours: Thursday
10am - 2pm
---
Trustee
Dale Hartsell
(989) 550 - 5660
---
Trustee
Clay Kelterborn
(989) 963-9282
---
Assessor
Lisa Clinton
(989) 856 - 4867
---
Burning
Permits
Call
989-856-9198