---
Zoning Administrator
For zoning questions, contact
Building Inspector,
Tory Geilhart
(989) 856 - 4867
---
Building
Inspector
Tory Geilhart
Hours: 8 am - noon
Mondays & Wednesday
(989) 856 - 4867
Thank you
Lake Township
1/1/2005
---
---
>> DNR Report <<
---
Spotted Lanternfly Found in Oakland County
>> DNR Report <<
---
---
VIRTUAL MEETING UPGRADE
Covid 19 has created new challenges for everyone. One of our greatest challenges at Lake Township was public meetings. As public bodies, our meetings must be open to all. The safety to our officials and social distancing is problematic in our hall's limited space. We have recently installed a large screen TV with a video conferencing camera which will be used for our meetings allowing access via GotoMeeting starting next week with our April Planning Commission meeting. We hope this upgrade will afford safe and effective access to anyone interested in attending. Anyone attending meetings in person will be required to wear a mask and social distance. All notices/agendas will provide the virtual access information.
---
---
NOTICE
>> Information on Recycling Changes <<
>> Emterra Recycling Flyer <<
Effective May 1, 2022 thru November 1, 2022
Recycling will only be accepted at the Transfer Station on Wednesdays and Saturdays. No recycling will be accepted on Sundays.
---
COMCAST
>> PROGRAMMING ADVISORY <<
>>Newest Programming Advisory<<
---
---
Burning
Permits
Call
989-856-9198
---
Note

Transfer Station Hours

(Winter Hours)

November thru April

Sundays 9 AM - 4 PM

Wednesday 2 PM - 5 PM

(Summer Hours)

May thru October

Wednesday 2 PM - 6 PM

Saturday 9 AM - 1 PM

*Sundays 9 AM - 4 PM

(Sunday No Recycling)

Lake Township

Adopted Budget for Fiscal Year 22 - 23
---
---
FYI

There are subjects and information that you may not be aware of on the link below.
---
---
> Past Notices <
---
---
Wed.-Thurs.-Fri. 10 a.m. to 2 p.m.

Building & Zoning Administrator

Mon. & Wed. 8a.m. to Noon

Assessor - Thurs. 8 a.m. to Noon.

Tues. Closed

For further information please call the

Township Hall 1-989-856-4867

or

E-mail us anytime at

Office Closings

Martin Luther Day 01/17/22

Presidents Day 2/21/22

Good Friday 04/15/22

Memorial Day 5/30/22

Independence Day 7/04/22

Labor Day 9/05/22

Columbus 10/10/22

Veterans Day 11/11/22

Thanksgiving Day 11/24/22

Day after Thanksgiving

Christmas Holiday's

New Year's Day 1/1/23
---
Drive Carefully and Stay Safe
---
---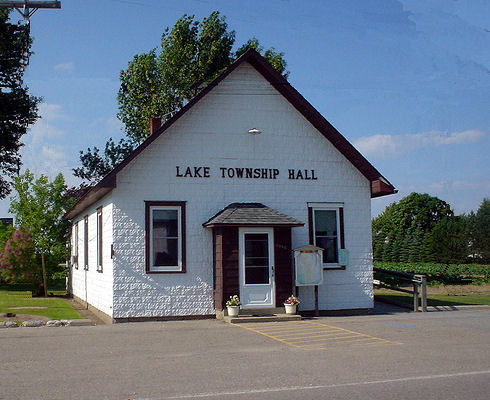 Welcome to Lake Township, a place where you will find a Recreational, Residential, Rural and Agricultural atmosphere. We are located in Michigan's Lower Peninsula 120 miles North of Detroit at the Tip of the Michigan Thumb. We boast 6 miles of sandy shoreline, facing Lake Huron in the Saginaw Bay. We have pristine wooded areas, State Parks, County Parks, Hiking Trails, Good Fishing, Water Sports, Scenic Turn out and summer rentals.
Caseville
---
Supervisor
Valerie McCallum
(989) 856 - 4867
---
Clerk
James Deming
(989) 856 - 4867
---
Treasurer
Nicole Collins
(989) 856 - 4867
Hours: Tuesday
10am - 2pm
---
Trustee
Dale Hartsell
(989) 550 - 5660
---
Trustee
Clay Kelterborn
(989) 963-9282
---
Assessor
Julia Fletcher
(989) 856 - 4867
---
Burning
Permits
Call
989-856-9198