---
---
Notice
Regular Meeting
of the
Lake Township Board of Trustees
Monday, January 17, 2022 at 6:30 P.M.
Meeting will be held in the Community Room
of the Caseville City/Township Hall,
6767 Main Street, Caseville Mi.
Masks and Social distancing will be observed.
>> Agenda & Packet <<
>> Unapproved Minutes of December 20, 2021 <<
---
NOTICE
Gypsy Moth Alert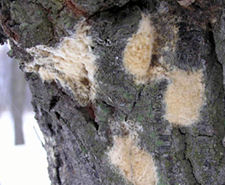 Please check your trees and structures on your property for gypsy moth masses. If you see these egg masses, please contact the township at 989-856-4867 or via email to info@laketownship.net and provide your name, address, phone number and/or email address. These masses are typically in protected areas, i.e. on the underside of tree limbs, on wood siding under leaves or other sheltered areas.
We are trying to determine where the hot spots are that may need to be sprayed in 2022. Since we may need to follow up with an onsite inspection on your property, please let us know if you have any concerns with that. We appreciate your help.
>> Investigate trees now for signs of gypsy moths. <<
>> Oil or remove gypsy moth egg masses now. <<
| | | |
| --- | --- | --- |
| Examples taken locally: | | |
| >> | | |
| >> | | |
| >> | | |
---
---
Tax Payment Information
Winter 2021 tax payments will be collected through February 28, 2022. Payments by mail are encouraged and should be sent to:
Lake Township Treasurer
P O Box 429
Caseville, MI 48725
Please include, with payment, the yellow tax bill in its entirety if you would like a receipt mailed back to you.
If paying by check, only, (no cash) you may drop off your payment in the secure drop box located in the entrance of the hall for tax payments. A receipt will be mailed to you, if you include the yellow tax bill in its entirety. There will be a $20.00 fee due to Lake Township on returned checks.
If paying with CASH please call 586.292.4872 for an appointment. You will need to have the exact amount.
Summer tax deferments are due by
February 14, 2022.
IN PERSON tax payments at the Lake Township Hall on the following days ONLY:
Wednesday, December 29, 2021 &
Monday, February 28, 2022
9:00 a.m.—5:00 p.m.
Treasurer, Nicole Collins, is also available via e-mail at: treasurer@laketownship.net
---
NOTICE
>> Information on Recycling Changes <<
>> Emterra Recycling Flyer <<
Effective May 1, 2021 thru November 1, 2021
Recycling will only be accepted at the Transfer Station on Wednesdays and Saturdays. No recycling will be accepted on Sundays.
---
---
NOTICE
COVID-19 Information from the
Huron County Health Department
At this time we do not have anymore appointments for the COVID vaccination. Once we receive more vaccines we will notify the public through local Radio, local Newspapers, our Facebook page or our Website.
>> Covid-19 Vaccination Clinic Update: <<
---
COMCAST
>> PROGRAMMING ADVISORY <<
>>Newest Programming Advisory<<
---
---
Lake Township
Zoning
Ordinance
Ordinance No 2020-1
Adopted
November 16, 2020
>> View <<
---
---
Notice
The Lake Township Hall offices will be closed until further notice to the public in observance of the
Coronavirus guidelines. Staff will be available by phone, email or appointment. Updates will be posted on the Township website.
Supervisor, Valerie McCallum - (989) 550-1046
Building Inspector/Zoning Administrator,
Tory Geilhart – (989) 553-2129
For other officials, leave a message at (989) 856-4867
Or email to:
Clerk, Jim Deming
Deputy Clerk, Maryanne Williams
Treasurer, Nicole Collins
Deputy Treasurer, Sheri Stanton
Assessor, Lisa Clinton
COVID-19 PREPAREDNESS AND RESPONSE PLAN
Lake Township, Huron County, Michigan
>> RESPONSE PLAN <<
---
---
NEW WARNINGS BELOW
---
Oak Wilt
Help Prevent the Spread
---
Tree of Heaven
is no Angel
>> Learn more <<
---
The invasive
Autumn Olive
>> Learn more <<
---
The invasive
Hemlock Wooly Adelgid
>> Learn more <<
---
The invasive
Beech leaf disease
>> Learn more <<
---
Check trees in August for signs of the
Asian
Longhorned Beetle
>> Details <<
---
---
---
Burning
Permits
Call
989-856-9198
---
Note

Winter Transfer Station Hours

November thru April

Sundays 9 AM - 4 PM

Wednesday 2 PM - 5 PM

May thru October

Wednesday 2 PM - 6 PM

Saturday 9 AM - 1 PM

Sundays 9 AM - 4 PM

Lake Township

Adopted Budget for Fiscal Year 21 - 22

>> Adopted Budget for Fiscal year 2021 - 22 <<
---
---
FYI

There are subjects and information that you may not be aware of on the link below.
---
>> Adopted Wind Ordinance <<
---
> Past Notices <
---
---
Mon. - Fri. 10 a.m. to 2 p.m.

For further information please call the

Township Hall 1-989-856-4867

or

E-mail us anytime at

Office Closings

Martin Luther Day 01/17/22

Presidents Day 2/21/22

Good Friday 04/15/22

Memorial Day 5/30/22

Independence Day 7/04/22

Labor Day 9/05/22

Columbus 10/10/22

Veterans Day 11/11/22

Thanksgiving Day 11/24/22

Day after Thanksgiving

Christmas Holiday's

New Year's Day 1/1/23
---
Drive Carefully and Stay Safe
---
---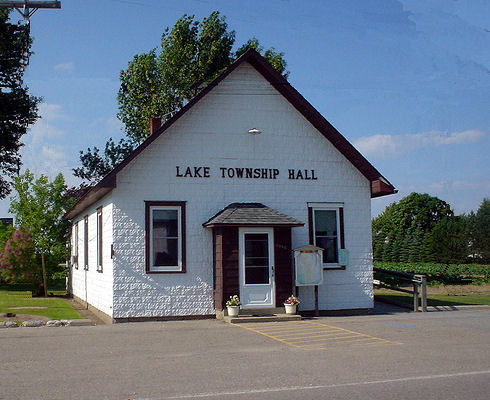 Welcome to Lake Township, a place where you will find a Recreational, Residential, Rural and Agricultural atmosphere. We are located in Michigan's Lower Peninsula 120 miles North of Detroit at the Tip of the Michigan Thumb. We boast 6 miles of sandy shoreline, facing Lake Huron in the Saginaw Bay. We have pristine wooded areas, State Parks, County Parks, Hiking Trails, Good Fishing, Water Sports, Scenic Turn out and summer rentals.