---
---
Notice
of continuance regarding Winfield appeal
Lake Township Zoning Board of Appeals
Thursday, October 5, 2017 at 6:30 P.M.
Lake Township Hall
located at 4988 W. Kinde Road , Caseville, MI.48725
>> WINFIELD <<
---
Notice
of the
Lake Township Zoning Board of Appeals
RESCHEDULED
Thursday, October 5, 2017 at 6:30 P.M.
Lake Township Hall
located at 4988 W. Kinde Road , Caseville, MI.48725
>> HOFFMAN <<
---
---
Best Method of Killing Phragmites
Below is an independent study, and recommendation by one of our Lake Township residences, to deal with phragmites on our beaches. If you are interested, please use the links that he recommends, including the DEQ link at Michigan.gov.
****
Below are three sites where to find the best method of killing Phragmites. The first one is to the Stewart farm on Harsens Island on Lake Saint Clair. The Stewart method is recommended by the DEQ. The second is another Stewart Farm page there you will find a long list of information links. The third link is the Department of Environmental Quality for Michigan. The DEQ web site provides all of the information needed to apply for the permits required to spray chemicals near Lake Huron. It also provides a link to the Steward Farm web site.
>> Phragmites Management Program <<
>> Phragmitites.Org <<
>> DEQ Department of Environmental Quality <<
The chemicals recommended by the Stewart site can be purchased in Flint at:
Cygnet Enterprises Inc 810 744-0540
1860 Bagwell Street
Flint, Michigan 48503
---
---
---
Form for
>> FOIA Request for Public Records <<
---
FYI
There are subjects and information that you
may not be aware of on the link below.
>> Helpful Links & Information <<
---
---
>> Adopted Wind Ordinance <<
---
> Past Notices <
---
---
Mon. - Fri. 10 a.m. to 2 p.m.

For further information please call the

Township Hall 1-989-856-4867

or

E-mail us anytime at

Office Closings

New Year's Day 1/1/17

Martin Luther Day 1/16/17

Presidents Day 2/20/17

Good Friday 04/14/17

Memorial Day 5/29/17

Independence Day 7/04/17

Labor Day 9/04/17

Columbus 10/09/17

Veterans Day 11/10/17

Thanksgiving Day 11/23/17

Day after Thanksgiving

Christmas Holiday's
---
---
Drive Carefully and Stay Safe
---
---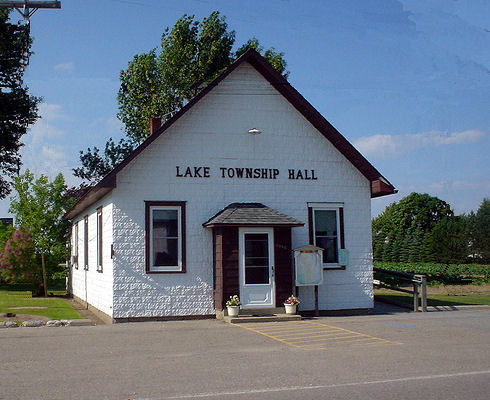 Welcome to Lake Township, a place where you will find a Recreational, Residential, Rural and Agricultural atmosphere. We are located in Michigan's Lower Peninsula 120 miles North of Detroit at the Tip of the Michigan Thumb. We boast 6 miles of sandy shoreline, facing Lake Huron in the Saginaw Bay. We have pristine wooded areas, State Parks, County Parks, Hiking Trails, Good Fishing, Water Sports, Scenic Turn out and summer rentals.