---
Zoning Administrator
For zoning questions, contact
Building Inspector,
Tory Geilhart
(989) 856 - 4867
---
Building
Inspector
Tory Geilhart
Hours: 8 am - noon
Mondays & Wednesday
(989) 856 - 4867
---
FOIA requests must be submitted in writing to the Lake Township Clerk. For information please call 1-989-856-4867
No e-mail requests
please.
Form
for
>> FOIA Request for Public Records <<
---
Thank you
Lake Township
1/1/2005
---
---
Notice
Regular Meeting
of the
Lake Township Planning Commission
Wednesday, October 23, 2019 at 7:00 P.M.
Lake Township Hall
located at 4988 W. Kinde Road , Caseville , MI.48725
>> Agenda <<
>> Unapproved Minutes of September 25,2019 <<
---
---
Gypsy Moth Alert
We are asking residents to look over their property for gypsy moth egg masses. This will assist us in determining the need for spraying in the spring of 2020.
The following link shows what the egg masses look like:
>> Egg Masses Identification <<
If you observe any on your property or in your neighborhood, please contact the Township Hall at 989-856-4867 or via email to
office@laketownship.net. We ask that you include your address and phone number in case we need to contact you for further information.
Additional information on gypsy moth identification is located at this link:
>> Gypsy Moth Identification <<
If you observed gypsy moth caterpillars or moths earlier in the year, please let us know.
---
---
---
---
LAKE TOWNSHIP
MARIHUANA ESTABLISHMENTS AND FACILITIES
>> Ordinance No. 2019 - 01 <<
FYI
New boating and fishing law takes effect March 21, 2019.
>> LINK <<
---
NOTICE TO LAKE TOWNSHIP RESIDENTS
During 2019, DTE Energy is planning to trim trees within our township. Please go to the map link in order to view the "2019 Tree Trim Maintenance Program" that has been prepared by DTE Energy. Thank you.
>> MAP <<
Notice
Representatives from the Huron County Quiet Skies Coalition attended our Township Board meeting in June to inform our residents about the current proposal for military combat training flights over Huron County. We are posting links to their information for our residents to be informed.
>> Keep Our Skies Quiet <<
---
---
FYI

There are subjects and information that you may not be aware of on the link below.
---
>> Adopted Wind Ordinance <<
---
> Past Notices <
---
---
Mon. - Fri. 10 a.m. to 2 p.m.

For further information please call the

Township Hall 1-989-856-4867

or

E-mail us anytime at

Office Closings

Martin Luther Day 1/21/19

Presidents Day 2/18/19

Good Friday 04/19/19

Memorial Day 5/27/19

Independence Day 7/04/18

Labor Day 9/02/19

Columbus 10/14/19

Veterans Day 11/11/19

Thanksgiving Day 11/28/19

Day after Thanksgiving

Christmas Holiday's

New Year's Day 1/1/20
---
---
Drive Carefully and Stay Safe
---
---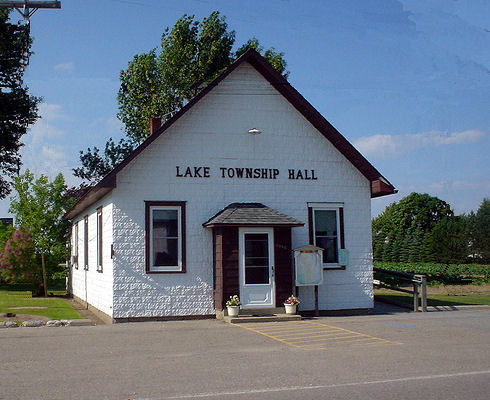 Welcome to Lake Township, a place where you will find a Recreational, Residential, Rural and Agricultural atmosphere. We are located in Michigan's Lower Peninsula 120 miles North of Detroit at the Tip of the Michigan Thumb. We boast 6 miles of sandy shoreline, facing Lake Huron in the Saginaw Bay. We have pristine wooded areas, State Parks, County Parks, Hiking Trails, Good Fishing, Water Sports, Scenic Turn out and summer rentals.
Caseville
---
Supervisor
Valerie McCallum
(989) 856 - 4867
---
Clerk
Dede Russell
(989) 856 - 4867
---
Treasurer
Nicole Collins
(989) 856 - 4867
Hours: Tuesday
10am - 2pm
---
Trustee
Dale Hartsell
(989) 550 - 5660
---
Trustee
Clay Kelterborn
(989) 963-9282
---
Assessor
Lisa Clinton
(989) 856 - 4867
---
Burning
Permits
Call
989-856-9198