---
---
Notice
Tory Geilhart (Zoning Adminstrator and Building Inspector) will be out of the office Monday (Sept. 26th) and Wednesday (Sept. 28).
If you need to speak to someone before the next week of business, please call the Township office at 989-856-4867.
---
Notice
Regular Meeting
of the
Lake Township Planning Commission
Wednesday, September 28, 2016 at 6:00 P.M.
Lake Township Hall
located at 4988 W. Kinde Road , Caseville , MI.48725
>> Agenda <<
>> Unapproved Minutes of 08/24/2016 <<
---
NOTICE
BE GREEN-RECYCLE
It has been brought to the Lake Township Board's attention that the recycle program is not being practiced in a manner requested by Emterra. Please note below the practices needed to make the recycle program a success.
1.) You do not have to separate the recycle items but be
sure there is no trash in these bins. They are for recycle
items only.
2.) Containers must be rinsed out and lids removed. Lids
can be recycled also.
3.) Dump items loosely in the transfer station recycle bin,
not in a garbage bag.
If you are in question as to what the Transfer Station takes for recycling, ask the attendant for a recycling flyer listing acceptable items. Plastic bins for storing and transporting your recycling are available for $7.75 at the Transfer Station or Township Hall.
Thank you for helping us make this program a success!

---
---
NOTICE
>> 2016 TRANSFER STATION SCHEDULE <<
New summer hours beginning May 1, 2016
---
---
PROPOSED BUDGET FOR
FISCAL YEAR 2016-17
>>

<<
---
Form for
>> FOIA Request for Public Records <<
---
FYI
There are subjects and information that you
may not be aware of on the link below.
>> Helpful Links & Information <<
---
---
>> Adopted Wind Ordinance <<
---
> Past Notices <
---
---
Mon. - Fri. 10 a.m. to 2 p.m.

For further information please call the

Township Hall 1-989-856-4867

or

E-mail us anytime at

Office Closings

New Year's Day 1/1/16

Martin Luther Day 1/18/16

Presidents Day 2/15/16

Good Friday 03/25/16

Memorial Day 5/30/16

Independence Day 7/04/16

Labor Day 9/05/16

Columbus 10/10/16

Veterans Day 11/11/16

Thanksgiving Day 11/24/16

Day after Thanksgiving

Christmas Holiday's
---
---
Drive Carefully and Stay Safe
---
---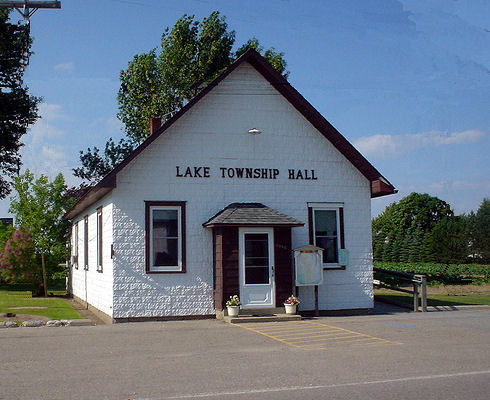 Welcome to Lake Township, a place where you will find a Recreational, Residential, Rural and Agricultural atmosphere. We are located in Michigan's Lower Peninsula 120 miles North of Detroit at the Tip of the Michigan Thumb. We boast 6 miles of sandy shoreline, facing Lake Huron in the Saginaw Bay. We have pristine wooded areas, State Parks, County Parks, Hiking Trails, Good Fishing, Water Sports, Scenic Turn out and summer rentals.