---
Zoning Administrator
For zoning questions, contact
Building Inspector,
Tory Geilhart
(989) 856 - 4867
---
Building
Inspector
Tory Geilhart
Hours: 8 am - noon
Mondays & Wednesday
(989) 856 - 4867
Thank you
Lake Township
1/1/2005
---
---
---
Notice
Draft of Lake Township
Master Plan of August 8, 2023
>> Draft <<
---
---
Notice
An ordinance/ORDINANCE AMENDMENT TO AMEND THE LAKE TOWNSHIP ZONING ORDINANCE, AS AMENDED, REGARDING SHORT-TERM RENTALS AND SIMILAR MATTERS
---
Notice
>> Transfer Station Changes <<
---
---
DNR Says Risk of Wildfire "Very High"
Thumb Area Headlines
Ryan Arntz
Wed, 12 Apr 2023 13:31:14 EDT

Fire danger has been pushed "to a very high levels across the Lower Peninsula." The DNR is now warning Michiganders that they need to be especially careful while doing anything that could spark a wildfire. The Department says that nine out of ten wildfires are cause by humans, and yard debris burning is the top cause of those fires.

Don Kingler, a resource manager for the DNR says that because of the increased danger, burn permits are being restricted for a few days.

He further explained in a DNR press release that hot and dry weather increases the risk of wildfires, especially when it is windy, as it has been this week. Residents should consult Michigan.gov./BurnPermit before starting a fire.
---
Burning
Permits
Call
989-856-9198
---
Huron County
Household Hazardous Waste
May 17, 2023
>> Collection Program <<
---
Note

Transfer Station Hours

(Winter Hours)

November thru April

Sundays 9 AM - 4 PM

Wednesday 2 PM - 5 PM

(Recycling will be accepted both days)

(Summer Hours)

May thru October

Wednesday 2 PM - 6 PM

Sundays 9 AM - 4 PM

Note

The Transfer Station will be open on Saturdays in May and November from 10AM to 2PM

for lawn waste only

>> Emterra Recycling Flyer <<

Lake Township

Adopted Budget for Fiscal Year 23-24

---

---

ComCast Update

>> December 15, 2122 <<

---
---
> Past Notices <
---
FYI

There are subjects and information that you may not be aware of on the link below.
---
---
Wed.-Thurs.-Fri. 10 a.m. to 2 p.m.

Building & Zoning Administrator

Mon. & Wed. 8a.m. to Noon

Assessor - Thurs. 8 a.m. to Noon.

Tues. Closed

For further information please call the

Township Hall 1-989-856-4867

or

E-mail us anytime at

Office Closings

Martin Luther Day 01/16/23

Presidents Day 2/20/23

Good Friday 04/07/22

Memorial Day 5/29/23

Juneteenth 6/19/23

Independence Day 7/04/23

Labor Day 9/04/23

Columbus 10/09/23

Veterans Day 11/11/23

Thanksgiving Day 11/23/23

Day after Thanksgiving

Christmas Holiday's

New Year's Day 1/1/24
---
Drive Carefully and Stay Safe
---
---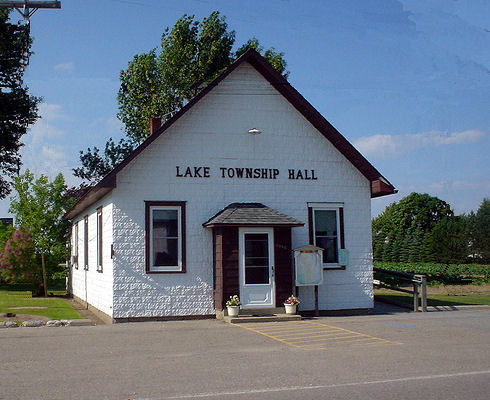 Welcome to Lake Township, a place where you will find a Recreational, Residential, Rural and Agricultural atmosphere. We are located in Michigan's Lower Peninsula 120 miles North of Detroit at the Tip of the Michigan Thumb. We boast 6 miles of sandy shoreline, facing Lake Huron in the Saginaw Bay. We have pristine wooded areas, State Parks, County Parks, Hiking Trails, Good Fishing, Water Sports, Scenic Turn out and summer rentals.
Caseville
---
Supervisor
Valerie McCallum
(989) 856 - 4867
---
Clerk
James Deming
(989) 856 - 4867
---
Treasurer
Nicole Collins
(989) 856 - 4867
Hours: Tuesday
10am - 2pm
---
Trustee
Dale Hartsell
(989) 550 - 5660
---
Trustee
Clay Kelterborn
(989) 963-9282
---
Assessor
Julia Fletcher
(989) 856 - 4867
---
Burning
Permits
Call
989-856-9198