---
Zoning Administrator
For zoning questions, contact
Building Inspector,
Tory Geilhart
(989) 856 - 4867
---
Building
Inspector
Tory Geilhart
Hours: 8 am - noon
Mondays & Wednesday
(989) 856 - 4867
---
FOIA requests must be submitted in writing to the Lake Township Clerk. For information please call 1-989-856-4867
No e-mail requests
please.
Form
for
>> FOIA Request for Public Records <<
---
Thank you
Lake Township
1/1/2005
---
---
NOTICE
August 3, 2021 Ballot &
Absent Voter Ballot Application Instructions
>> August 3, 2021 Ballot <<
>> AV App. Ballot Instructions <<
---
NOTICE
>> Information on Recycling Changes <<
>> Emterra Recycling Flyer <<
Effective May 1, 2021 thru November 1, 2021
Recycling will only be accepted at the Transfer Station on Wednesdays and Saturdays. No recycling will be accepted on Sundays.
---
---
Huron County's Hazardous Waste Collection Program
Huron County's Hazardous Waste Collection Program will have its Spring Collection on June 5th, in Bad Axe. To bring acceptable waste you must register by Monday, May 21st, and no materials will be accepted without an appointment. Accepted will be toxic, flammable, caustic or chemically reactive materials, like oil based paint, drain cleaners, pool chemicals, alkaline batteries, pesticides and antifreeze. To register call 269-9949. The collection is for Huron County residents only.
>> FLYER <<
Thumbnet.net WLEW
---
NOTICE
COVID-19 Information from the
Huron County Health Department
At this time we do not have anymore appointments for the COVID vaccination. Once we receive more vaccines we will notify the public through local Radio, local Newspapers, our Facebook page or our Website.
>> Covid-19 Vaccination Clinic Update: <<
---
COMCAST
>> PROGRAMMING ADVISORY <<
---
---
Lake Township
Zoning
Ordinance
Ordinance No 2020-1
Adopted
November 16, 2020
>> View <<
---
---
Notice
The Lake Township Hall offices will be closed until further notice to the public in observance of the
Coronavirus guidelines. Staff will be available by phone, email or appointment. Updates will be posted on the Township website.
Supervisor, Valerie McCallum - (989) 550-1046
Building Inspector/Zoning Administrator,
Tory Geilhart – (989) 553-2129
For other officials, leave a message at (989) 856-4867
Or email to:
Clerk, Jim Deming
Deputy Clerk, Maryanne Williams
Treasurer, Nicole Collins
Deputy Treasurer, Sheri Stanton
Assessor, Lisa Clinton
COVID-19 PREPAREDNESS AND RESPONSE PLAN
Lake Township, Huron County, Michigan
>> RESPONSE PLAN <<
---
---
NEW WARNINGS BELOW
---
Oak Wilt
Help Prevent the Spread
---
Tree of Heaven
is no Angel
>> Learn more <<
---
The invasive
Autumn Olive
>> Learn more <<
---
The invasive
Hemlock Wooly Adelgid
>> Learn more <<
---
The invasive
Beech leaf disease
>> Learn more <<
---
Re: Lake Township
Shoreline Properties
---
---
Burning
Permits
Call
989-856-9198
---
---
---
FYI

There are subjects and information that you may not be aware of on the link below.
---
>> Adopted Wind Ordinance <<
---
> Past Notices <
---
---
Mon. - Fri. 10 a.m. to 2 p.m.

For further information please call the

Township Hall 1-989-856-4867

or

E-mail us anytime at

Office Closings

Martin Luther Day 1/18/21

Presidents Day 2/15/21

Good Friday 04/02/21

Memorial Day 5/31/21

Independence Day 7/04/21

Labor Day 9/06/21

Columbus 10/11/21

Veterans Day 11/11/21

Thanksgiving Day 11/25/21

Day after Thanksgiving

Christmas Holiday's

New Year's Day 1/1/21
---
Drive Carefully and Stay Safe
---
---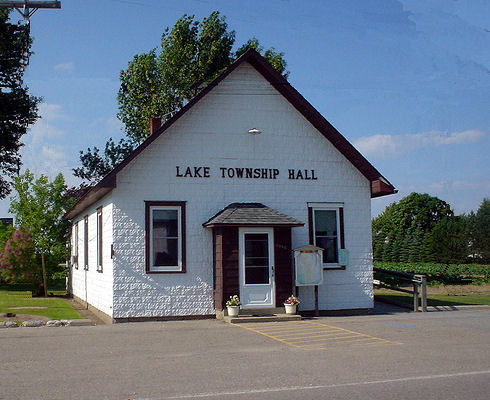 Welcome to Lake Township, a place where you will find a Recreational, Residential, Rural and Agricultural atmosphere. We are located in Michigan's Lower Peninsula 120 miles North of Detroit at the Tip of the Michigan Thumb. We boast 6 miles of sandy shoreline, facing Lake Huron in the Saginaw Bay. We have pristine wooded areas, State Parks, County Parks, Hiking Trails, Good Fishing, Water Sports, Scenic Turn out and summer rentals.
Caseville
---
Supervisor
Valerie McCallum
(989) 856 - 4867
---
Clerk
James Deming
(989) 856 - 4867
---
Treasurer
Nicole Collins
(989) 856 - 4867
Hours: Tuesday
10am - 2pm
---
Trustee
Dale Hartsell
(989) 550 - 5660
---
Trustee
Clay Kelterborn
(989) 963-9282
---
Assessor
Lisa Clinton
(989) 856 - 4867
---
Burning
Permits
Call
989-856-9198